Home report
The home page of your account show aggregated info about each monitored domain. Whether you'e monitoring all URLs or only a few of them, the metrics will be displayed in a card for each domain.

1. Avg. performance​
Represents the average performance for all monitored URLs, for desktop and mobile, calculated for the last update. This will help you know how your domain is performing for each device.
2. URLs distribution​
This widget lists the performance distribution of monitored URLs for your domain, showing the average score for the fast, average and slow ones.
tip
Click on an item to see the URLs performing fast, slow or average.
3. Origin Core Web Vitals​
Core Web Vitals is the aggregate experience of all pages served from your domain for the last 28-day period. Split by device, this metric is calculated every time a snapshot is created for any URL of your domain.
4. Uptime​
The average percent of uptime for all tracked URLs across your domain for the last 24 hours.
5. Robots.txt​
The status of domain's robots.txt file. Possible values:
tip
If your robots.txt file exists, you can click to see its validation.
6. Errors & Warnings​
Every snapshot can contain errors related to either Lighthouse sections, Performance, Accessibility, Best Practices, SEO or Progressive Web App. Wattspeed calculates the number of distinct errors per page. This is usefully to see the common errors across your webpages, while in some cases, solving one error for a page can solve it on all the others.
Filtering​
Refine your domain list by displaying only the items matching the filters. Filters are applied to the whole domain, so if you apply the Slow fitler for URLs Distribution, only the domains with at least one slow URL will be displayed. Almost every metric from the ones specified above can be filtered.
Actions​
You can perform multiple actions on all URLs of a domain or on multiple domains by using the Select all checkbox or the individual one from the left side of each domain name. Available actions:
Generate snapshot

Update frequency

Change locations

Label domains

Delete
This functionality will let you easily update the snapshot configuration of multiple webpages at once.
Labels​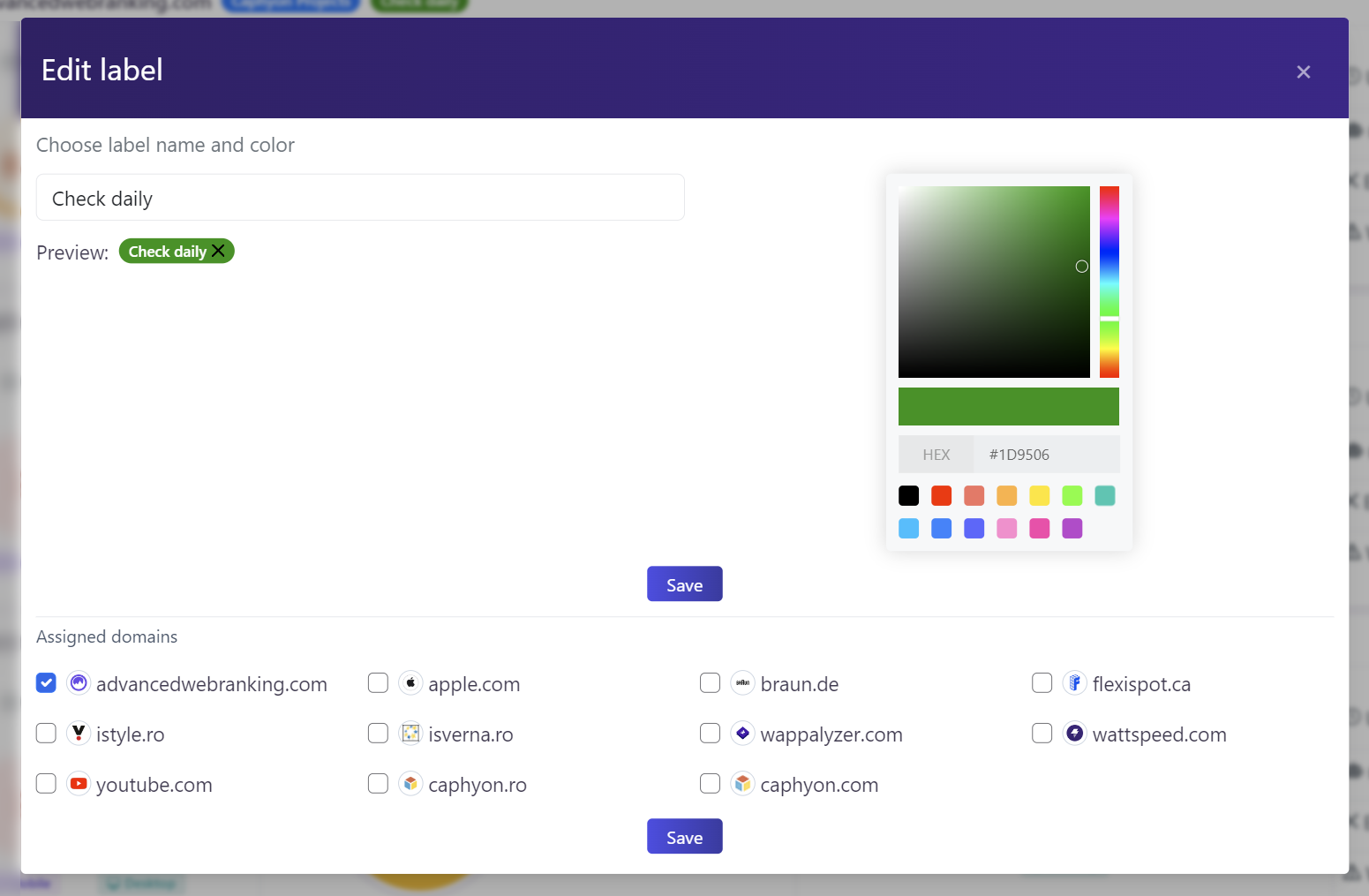 Selecting an existent label shall initiate a modal interface, affording you the opportunity to both amend the label's content, color and allocate it to alternative domains.
Labeling will help you group multiple domains under a custom category. If you have various domains for the same client, you can label them as you like, so you can later create a custom view using the labels filter.